Bread Study and Community Service
We have investigated bread! Bread is everywhere. Nearly every culture in the world eats some type of bread. As we studied bread, we learned concepts and skills related to physical development, literacy, math, science, social studies, the arts, and technology. We also developed thinking skills as we observed, investigated, asked questions, solved problems, made predictions, and tested our ideas.
We enjoyed making our own bread. Making bread allows the children to demonstrate their knowledge of print by following a recipe. Children see print in their homes, in their schools, on street signs, and elsewhere throughout their communities. Knowledge of print and its uses includes understanding that print carries a message and that print is organized and read in particular ways. Young children's concepts about print are a good predictor of later reading, writing, and spelling ability. Making our own bread also allowed them to compare and measure ingredients. Preschool children understand that there are different ways of measuring. They are beginning to recognize the attributes of length, height, width, capacity, and weight.
One of the reasons I love teaching at St. James is the fact that I have the flexibility to allow a child to make breakfast for his friends. Colin, our guest chef, served chocolate chip waffles to his classmates and teachers……..priceless moment! Who would not want this loving, nurturing and FUN environment for their child? This is the prime example of building positive relationships with peers, which is so important in social-emotional development.
We celebrated our study of bread by taking a field trip to Be the Blessing Bakery. The bakery is a program of the Randy Sams' Outreach Shelter. They provide jobs by employing individuals experiencing homelessness. Cathy Smith, Bakery Program Director, taught our little ones the importance of wearing nets over their hair while cooking. They were able to see how cupcakes are made and the ingredients used. Each child took a turn at putting the batter into a muffin cup and then were able to decorate and eat their own creations!!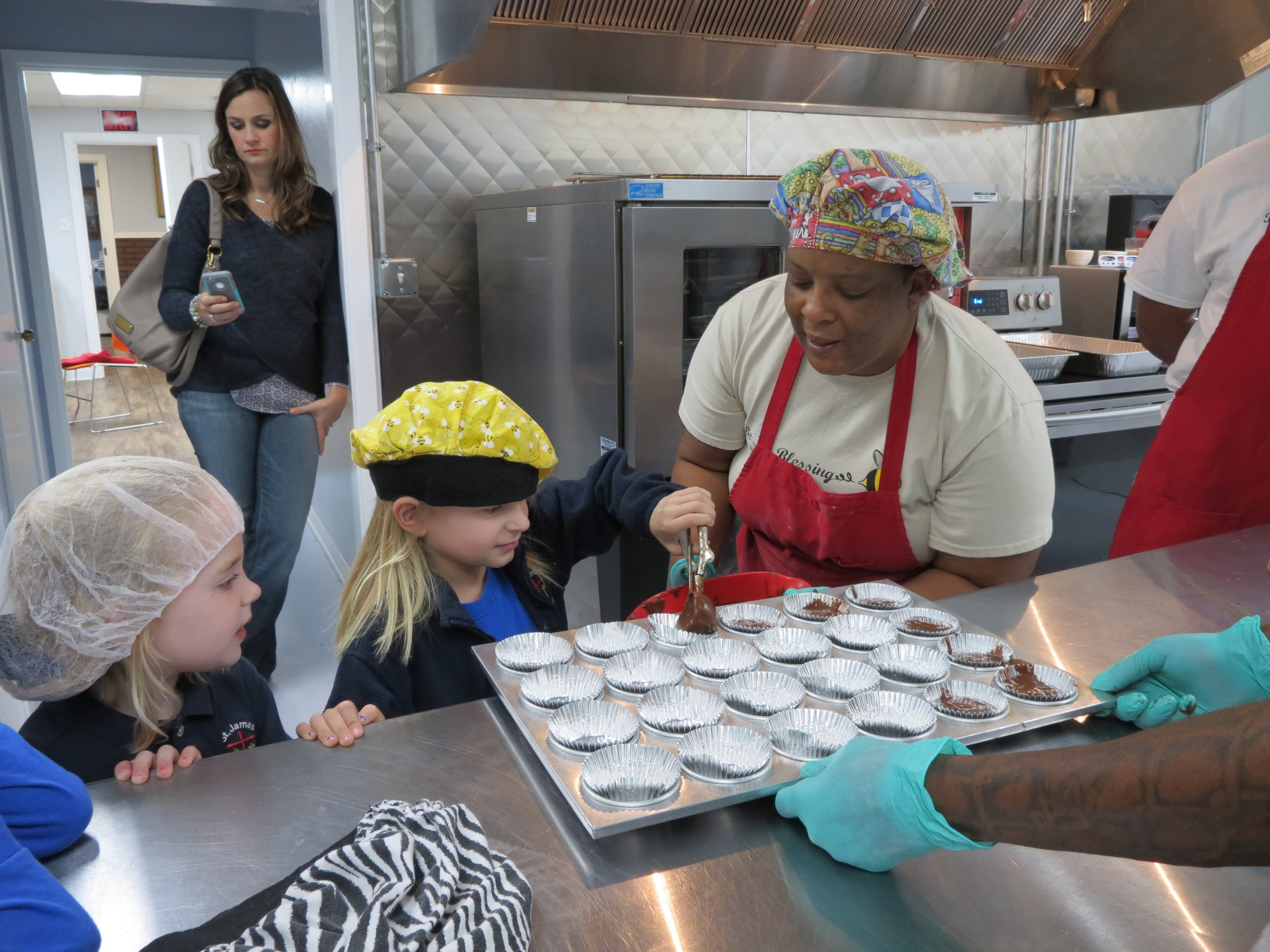 Our community service project this fall was making decorations and cards for the Randy Sams Thanksgiving luncheon. Both PreK classes joined together for this project. Together we made 102 cards, and 130 placemats for the shelter. Also, 216 tubes of toothpaste were generously donated by longtime St. James Day School supporter Andrew S. Curry, D.D.S. Mrs. Jennifer Laurent, Executive Director of the Randy Sams Shelter, came to our classroom and talked to the children about the shelter, and picked up the decorations.